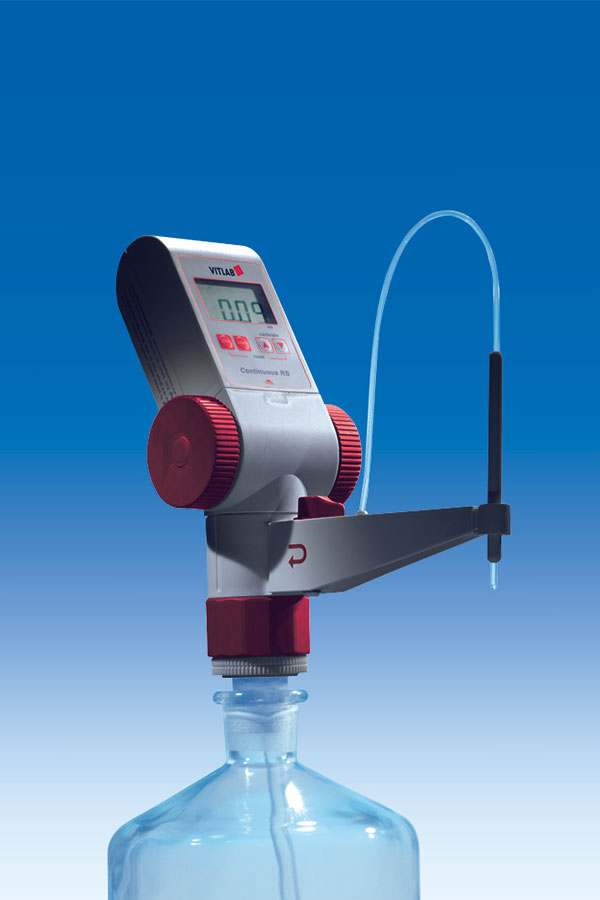 Vitlab Titration Continuous E/RS
The VITLAB continuous bottle-top burette enables continuous titration, which leads to fast, convenient and accurate results. The angled display shows 4-position titration volume in large, easily read numbers, which simplifies operation.
Chemical volumetric analysis with minute liquid volumes requires a great deal of concentration. With VITLAB continuous, the bottletop burette, you can carry out continuous titration and comfortably attain secure results – and save a lot of time in the process.
The double-piston pump holds the solution to be measured permanently and pulse-free – filling procedures are not necessary.
Furthermore, this innovative technology increases security; its compact structure and low center of gravity reduce risk of spillage, especially with smaller bottles. The height and length of the discharge tube can be adjusted, allowing you to work safely with both short and tall bottles.
The patented recirculation system from VITLAB has two advantages: it prevents the loss of valuable reagents and reduces the risk of splashing. The simple-to-use calibration function helps meet all the requirements of testing-apparatus monitoring – with minimal downtime. Margins of error are well within those specified in the German DIN EN ISO 8665-3 standard, even for partial volumes.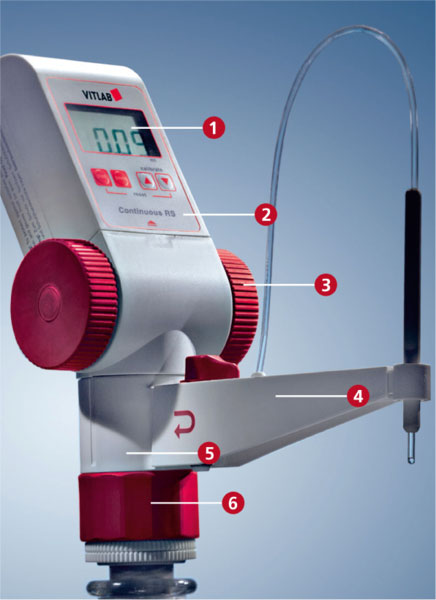 large, easy-to-read digits,
continual supply with double-piston pump,
continuous regulation of tiration speed with large practical thumbwheels,
telescopic discharge tube can be adjusted in height and length,
rotates freely on bottle,
Standard GL 45 thread adaptable with diffferent adapters
Angled display
The angled display clearly shows the titration volume and simplifies operation.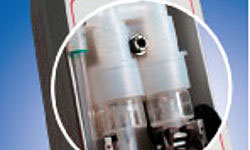 Double-piston pump
By turning both thumbwheels, the titration liquid is pumped continually by the double-piston pump.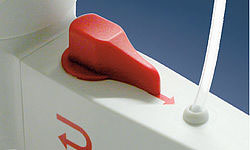 Recirculation valve
The recirculation valve from VITLAB reduces reagent loss and increases safety.
VITLAB® continuous E/RS (GL 45 thread), 3 PP thread adapters (GL 32, GL 38 and S 40), telescopic filling tube (200 – 350 mm), telescopic discharge tube (140 – 220 mm), two microbatteries 1.5 V (LR 03/AAA), quality certificate and operating manual.
Recommended range of use for VITLAB® continuous E/RS
E Type
| | |
| --- | --- |
| A ≤ ± % | 0,2 (25 ml) |
| CV ≤ % | 0,1 (25 ml) |
| PU | 1 |
| Cat. No. | 1620506 |
RS Type
| | |
| --- | --- |
| A ≤ ± % | 0,2 (50 ml) |
| CV ≤ % | 0,1 (50 ml) |
| PU | 1 |
| Cat. No. | 1620507 |