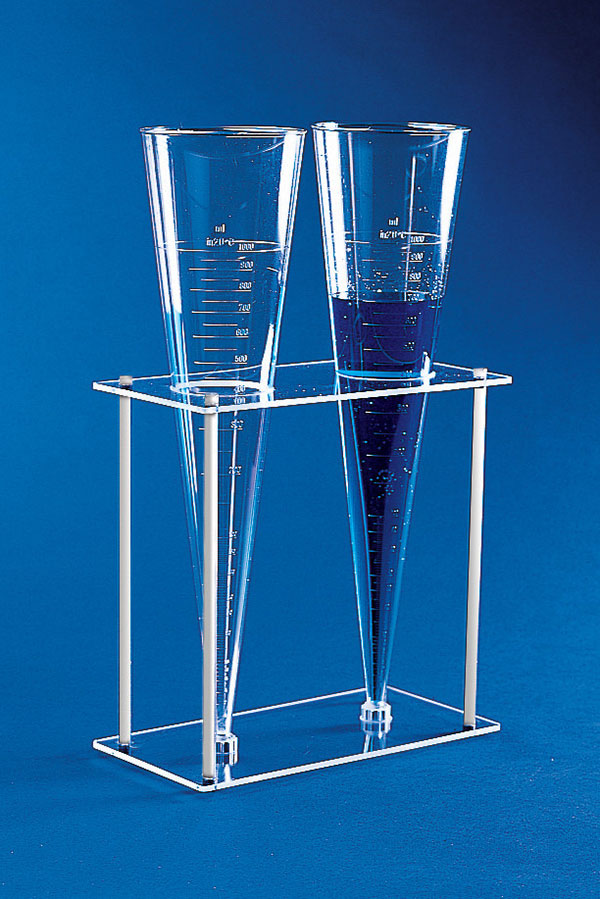 Kartell Labware Sedimentation Imhoff Cone – Din 12672
Crystal clear Imhoff cone. Permanently moulded graduations. Easy draining via PP screw plug in the base. Back flush cleaning easily effected.
The graduated scale from 100 ml to 300 ml has been implemented, with increments of 10 ml and tolerance +/- 5%, according to DIN 12672.
Kartell logo and "recycle" symbol are shown in the upper part of the product.
Conforms to DIN 12672
Grad. to level
0,1
Int ml
0-2
Volumetric tol.
+/- 5%
Top Ø mm
Ext.: 124,50~%X
Int.: 117,70
Tol. +/- 0,3
Base Ø mm
Ext.: 18,70
Int.: 8,70
Tol. +/- 0,3
Tot h mm
With cap: 478,40
Without cap: 474,70
Tol.: +/- 0,3
Grad. to level
0,5
Int ml
2 – 10
Volumetric tol.
+/- 5%
Top Ø mm
Ext.: 124,50~%X
Int.: 117,70
Tol. +/- 0,3
Base Ø mm
Ext.: 18,70
Int.: 8,70
Tol. +/- 0,3
Tot h mm
With cap: 478,40
Without cap: 474,70
Tol.: +/- 0,3
Grad. to level
1,5
Int ml
10 – 100
Volumetric tol.
+/- 5%
Top Ø mm
Ext.: 124,50~%X
Int.: 117,70
Tol. +/- 0,3
Base Ø mm
Ext.: 18,70
Int.: 8,70
Tol. +/- 0,3
Tot h mm
With cap: 478,40
Without cap: 474,70
Tol.: +/- 0,3
Grad. to level
10,0
Int ml
100 – 300
Volumetric tol.
+/- 5%
Top Ø mm
Ext.: 124,50~%X
Int.: 117,70
Tol. +/- 0,3
Base Ø mm
Ext.: 18,70
Int.: 8,70
Tol. +/- 0,3
Tot h mm
With cap: 478,40
Without cap: 474,70
Tol.: +/- 0,3
Grad. to level
50,0
Int ml
300 – 1000
Volumetric tol.
+/- 5%
Top Ø mm
Ext.: 124,50~%X
Int.: 117,70
Tol. +/- 0,3
Base Ø mm
Ext.: 18,70
Int.: 8,70
Tol. +/- 0,3
Tot h mm
With cap: 478,40
Without cap: 474,70
Tol.: +/- 0,3