Product range: scalpel blade and handle, scissors and forceps
Surgical apparatus are usually used to open soft tissue, remove bone, dissect and isolate certain structures. Some surgical tools are meant for a single use, whereas some can be used again after thorough cleaning and sterilisation. Non complex tools, such as forceps, scissors, and scalpel blade handles are usually reusable and affordable.
Photo: Forceps
Used to pick up soft tissue, to manipulate fine materials, to pull up certain part to help with dissection, and to assist in any laboratory need.
For more information, please visit our showroom or contact us on +603-6140 8613
DS-14
Basic dissecting set, clip case, set of 14 items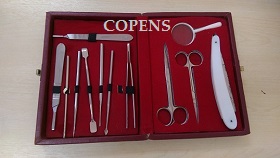 1x scissors (straight, closed shank, sharp/blunt 130 mm), 1x scissors (straight, closed shank, sharp/sharp 110 mm), 1x blunt forceps 130 mm, 1x sharp forceps 125 mm, 1x scalpel handle no.3, 1x scalpel handle no.4, 1x scalpel blade, 1x sharp dissecting needle, 2x needles, 1x lifter double flat ends, 1x chiropody knife 130 mm, 1x magnifier with plastic handle and frame (35 mm
dia., 2x magnification), 1x section razor (plastic handle)
FB-130
Stainless steel Forcep, straight, blunt, 130 mm
FB-140
Stainless steel Forcep, straight, blunt, 140 mm
FB-160
Stainless steel Forcep, straight, blunt, 160 mm
FB-200
Stainless steel Forcep, straight, blunt, 200 mm
FB-250
Stainless steel Forcep, straight, blunt, 250 mm

FB-300
Stainless steel Forcep, straight, blunt, 300 mm
FS-130
Stainless steel Forcep, straight, sharp, 130 mm

FS-250
Stainless steel Forcep, straight, sharp, 250 mm
FS-300
Stainless steel Forcep, straight, sharp, 300 mm

FSC-130
Stainless steel Forcep, curve, sharp, 130 mm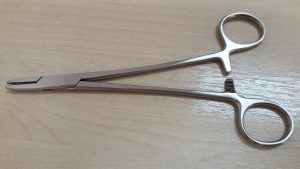 NH150
Mayo Hegar needle holder, 150 mm
S200
Stainless steel Haemostat Crile Forcep, 150 mm
SB1010
Scalpel blade, carbon steel, sterile, No. 10
SB1011
Scalpel blade, carbon steel, sterile, No. 11
SB1015
Scalpel blade, carbon steel, sterile, No. 15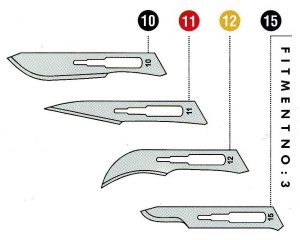 SB1021
Scalpel blade, carbon steel, sterile, No. 21
SB1022
Scalpel blade, carbon steel, sterile, No. 22
SB1023
Scalpel blade, carbon steel, sterile, No. 23
SH-3
Stainless steel Scalpel blade handle, No. 3 – to fit blade No. 10/11/12/15
SH-4
Stainless steel Scalpel blade handle, No. 4 – to fit blade No. 20/21/22/23/24/25
SH-53
Stainless steel Scalpel blade, solid, 35 mm
SBB100
Stainless steel Scissor, straight, closed shank,
blunt/blunt, 100 mm
SBB130
Stainless steel Scissor, straight, closed shank,
blunt/blunt, 130 mm
SBB150
Stainless steel Scissor, straight, closed shank,
blunt/blunt, 150 mm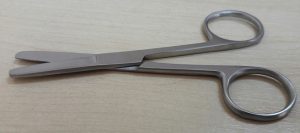 SBB200
Stainless steel Scissor, straight, closed shank,
blunt/blunt, 200 mm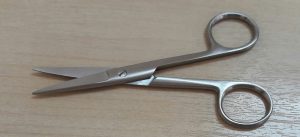 SS100/130/150/200
Stainless steel Scissor, straight, closed shank,
sharp/sharp, 100mm / 130mm / 150mm / 200mm